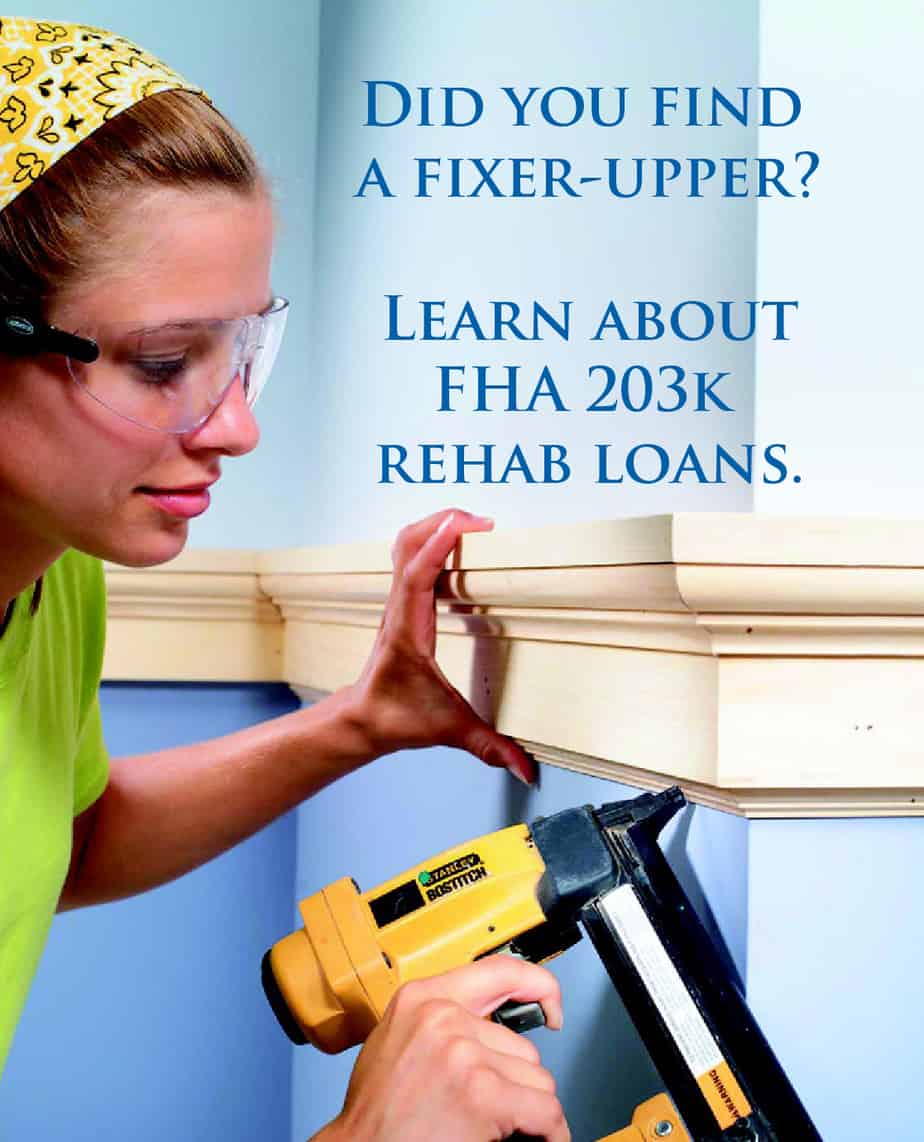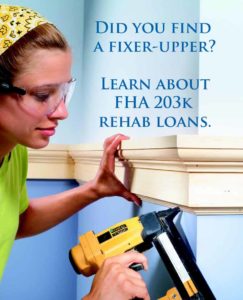 Getting an FHA 203k loan in Clarksville TN
If you're interested in purchasing a residential home that requires renovation or you would like to upgrade your current living space, an FHA 203(k) program may be the perfect financing option for you. Designed to eliminate unnecessary paperwork and simplify the financing process, an FHA 203(k) loan can take the guesswork out of purchasing or renovating a property. In the past, homebuyers would have to apply for multiple loans in order to purchase a fixer-upper. Now those loans are conveniently packaged in one FHA 203(k) loan.
Qualifications on Getting an FHA 203k Loan Clarksville TN
Single-family, duplex, tri-plex, and quad-plex dwellings that are strictly being used for residential purposes are eligible for a 203(k) loan, you may be wondering what makes you eligible for the loan. Are there minimum credit scores? Are first-time homebuyers eligible? How much cash should you have saved up? Whether you're concerned about your FICO credit score (middle credit score) or maximum loan amount, here are some FHA 203(k) loan requirements that will make you 203(k) eligible.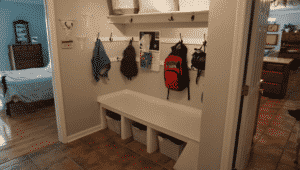 Credit Score 
When it comes to taking out loans, whether it's for a car or a home, your credit score will almost always come into play. Fortunately, it's getting easier for homebuyers to get approved for an FHA-backed home loan. If you currently have at least a 620 FICO score and a 3.5 percent down payment, you may be eligible for an FHA 203(k) loan.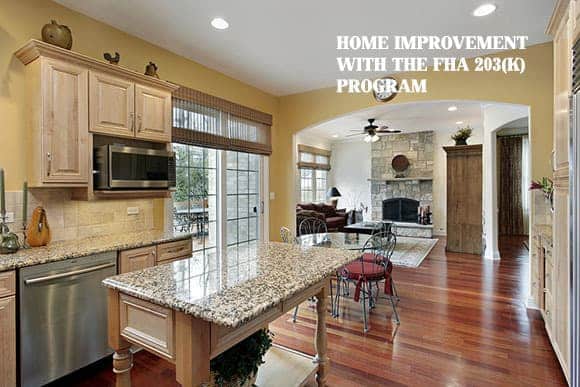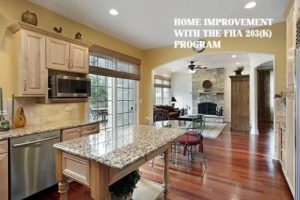 First-Time Homebuyers
If you've never owned a home or haven't owned a home in the past three years, you would be considered a first-time homebuyer. You have a multitude of loan options available to you – including the FHA 203(k) loan program. While 203(k) loan programs are a great financing option for first-time homebuyers, they are not limited to those who have never owned a home. As long as you live in, or plan on living in the home and meet all other FHA 203(k) requirements, you're eligible for the 203(k) loan program – regardless of your home-owning history.

Homebuyers
While FHA loans are open to everyone, they're often considered a first-time homebuyer program for a variety of reasons. First-time homebuyers don't typically have much money for a down payment, and FHA loans only require a 3.5 percent down payment. Additionally, homebuyers with lower credit scores who may have difficulty being approved for other home loans may find themselves eligible for an FHA 203k loan.
Getting an FHA 203k loan in Clarksville TN
How does a 203(k) work?
In the past, those who purchased a fixer-upper would have to apply for two loans in order to finance the repairs: a mortgage and a separate home equity loan or use their savings account for renovations. Now, the two loans are combined, resulting in an easy and convenient loan known as the Limited 203(k) Loan or the standard 203(k) Consultant Loan. The loans can be an adjustable-rate or fixed-rate mortgages.
203(k) Limited and Consultant K Loans
With Limited 203(k) and Consultant K Loans, you can begin your home renovations as soon as the loan closes. Repairs must start within 30 days of closing and be completed within six months. With Limited K Loans, contractors typically receive 50% of the total amount when renovations begin, with the remaining amount due as soon as the final inspection is complete. With Consultant K Loans, the Consultant inspects the repairs as they're completed and requests the lender to release the funds. In both cases, any remaining funds are applied to the principal balance of the loan.
What is an FHA Limited (Streamline) 203(k) Loan?

Designed specifically for homes that may need cosmetic repairs or upgrades, the Limited (formerly known as Streamline) 203(k) Loan. Remodeling, repairs, or updates must be less than $35,000. As long as the intended repairs don't exceed that amount, you may be eligible for an FHA Limited 203(k) Loan. Before considering applying for a Limited (formerly known as Streamline) 203(k) Loan. Here is a sample of some projects that are eligible.
What is Eligible:
Minor kitchen remodeling which does not involve structural repairs
Pool repairs
Interior and exterior painting
Repair/replacement/upgrade of appliances
Window and door replacements
Replace/repair roof, gutters, and downspouts
Basement finishing/remodeling/waterproofing (not requiring structural repairs)
Improvement of accessibility for persons with disabilities
AND more!
What isn't Eligible:



Major rehabilitation or major remodeling

New construction, including room addition

Repairs of structural damage

Landscaping or similar site amenity improvements

Any repair requiring a work schedule > 6 months

Foundation work

New swimming pool

Repairs requiring detailed drawings or architectural exhibits

New tennis court, gazebo, or bathhouse


Other types of luxury items
What is an FHA 203k Consultant Loan?
Typically reserved for homes requiring more than $35,000 in repairs. In order to apply for the loan, there must be at least $5,000 worth of repairs, and loan limits are based on property type and location. Since the 203(k) Consultant allows for more extensive work, more supervision is required throughout the process. A 203(k) Consultant will inspect your property and help you determine which repairs are required to bring the property up to FHA minimum standards. Below is just a sample of eligible repairs with a 203(k) Consultant Loan.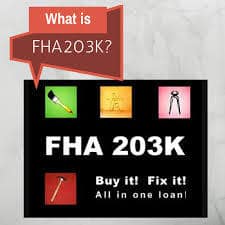 Eligible:
Full kitchen or bathroom remodel

Garage (attached/detached/new)
Structural alterations and additions
Major Landscaping/decks/fencing
Permanent improvements to the house
Install appliances
Repair swimming pool
Install flooring/tile
Interior and exterior painting
Improvements that are a permanent part of the real estate
Not Eligible:
New tennis court
Gazebo or bathhouse
Additions or alterations for commercial use
New Swimming pool
Outdoor fireplace/barbecue pit
Other types of luxury items
FHA 203(k) Loan Simplified
For Consultant K loans, the 203(k) contractor must also sign the work write-up, acknowledging the cost of repairs. With the Limited K, contractors must sign a detailed contractor bid, which may include a breakdown of labor and materials for each part of the contract.
If you're purchasing a home and happen to be a professional contractor and/or believe you're otherwise qualified to perform some of the renovation work yourself, talk with your Mortgage Loan Originator. Special rules apply in both of these circumstances.
Learn about the FHA 203(k) Loan