1031 Exchange, what is it and what are the Rules?
Welcome, my name is Ron Dayley and I'm your trusted real estate agent in Clarksville, TN. I specialize in 1031 exchange (like-kind exchange) in Clarksville TN, helping my clients maximize their investments and achieve their financial goals.
What is a 1031 exchange?
A 1031 exchange, also known as a like-kind exchange, allows investors to defer paying taxes on the sale of one property by reinvesting the proceeds into another property. This allows investors to leverage their money and grow their real estate portfolio without being burdened by capital gains taxes.
Why choose me as your 1031 exchange Realtor?
As an experienced real estate agent in Clarksville, TN, I understand the nuances of the 1031 exchange process and can guide you through every step of the way. From identifying potential replacement properties to negotiating the terms of the exchange, I am dedicated to helping my clients make the most of their investments.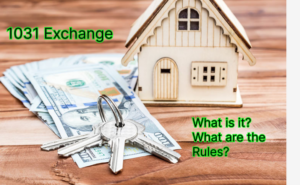 Here are some of the benefits of working with me for your 1031 exchange:
In-depth knowledge of the local real estate market: I have a deep understanding of the Clarksville, TN real estate market and can help you find the right properties to match your investment goals.

An extensive network of industry professionals: I have built a strong network of industry professionals, including attorneys, accountants, and lenders, who can assist you with the legal and financial aspects of your 1031 exchange.

Personalized service: I take the time to understand my client's unique investment objectives and tailor my services to meet their specific needs. You can count on me to be responsive, proactive, and transparent throughout the entire 1031 exchange process.

Proven track record: I have helped numerous clients successfully complete their Like-Kind exchanges, and I am committed to delivering exceptional results for every client.
Whether you are a seasoned real estate investor or just getting started, I am here to help you navigate the complex world of 1031 exchanges. Contact me today to schedule a consultation and learn how I can help you achieve your financial goals through real estate investing.
1031 Exchange Rules:
To qualify for a 1031 exchange, you must follow certain rules and guidelines. Here are some of the key rules to keep in mind:
Property type: The properties involved in the exchange must be "like-kind," meaning they are similar in nature and use. For example, you can exchange a rental property for another rental property or a commercial property for another commercial property.

Timelines: There are strict timelines that must be followed in a 1031 exchange. You must identify the replacement property within 45 days of selling the original property, and you must close on the replacement property within 180 days of selling the original property.

Qualified intermediary: To complete a 1031 exchange, you must work with a qualified intermediary (QI) who will facilitate the transaction. The QI holds the proceeds from the sale of the original property and uses them to purchase the replacement property on your behalf.

Reinvestment requirements: To defer all of your capital gains taxes, you must reinvest all of the proceeds from the sale of the original property into the replacement property. If you receive any cash or other property as part of the exchange, you may owe taxes on that amount.

Tax reporting: While a Like-Kind exchange can defer your capital gains taxes, you will eventually owe taxes on the gains when you sell the replacement property. It's important to keep detailed records and work with a tax professional to ensure you're following all tax reporting requirements.
Conclusion:
A 1031 exchange can be a powerful tool for real estate investors to defer capital gains taxes and grow their wealth. However, it's crucial to understand the rules and regulations that govern this type of transaction. I provide comprehensive information about 1031 exchange rules and can help you navigate the process successfully. Contact us today to learn more! if you need a 1031 Exchange Realtor in Clarksville TN, call 931-249-6598 and ask for Ron Dayley.