Homes for Sale in Gatlinburg TN
Explore the Beauty of Gatlinburg, TN: Your Guide to Finding the Perfect Home
Are you dreaming of owning a home in a picturesque location surrounded by natural beauty? Look no further than Gatlinburg, TN! With its charming cabins, luxury mountain homes, and modern houses, this enchanting town offers a variety of options for those seeking to find their dream property. In this comprehensive guide, we will delve into the reasons why Gatlinburg is such an attractive location, highlight the diverse range of homes available, and provide expert advice to help you make an informed decision. Let's embark on an exciting journey and discover the endless possibilities that await you in Gatlinburg, TN!
1. Gatlinburg: A Paradise of Natural Beauty
Nestled in the heart of the Great Smoky Mountains, Gatlinburg boasts breathtaking natural landscapes that will leave you in awe. The town is renowned for its stunning mountain views, lush forests, and tranquil streams. Imagine waking up to the soothing sounds of nature and witnessing mesmerizing sunsets from the comfort of your own home. Whether you are an outdoor enthusiast, a nature lover, or simply appreciate the serenity of the great outdoors, Gatlinburg offers an unparalleled setting that serves as a haven for relaxation and rejuvenation.
2. Outdoor Activities for Every Adventurer
Gatlinburg is a paradise for outdoor enthusiasts, offering a myriad of activities to suit every interest and skill level. Hiking trails crisscross the region, providing opportunities to explore the vast wilderness and discover hidden treasures along the way. From the iconic Appalachian Trail to the picturesque Chimney Tops, there are trails suitable for leisurely strolls, family hikes, or challenging expeditions. If you prefer water-based activities, the nearby rivers and lakes offer fishing, kayaking, and rafting adventures that will satisfy your thirst for excitement. In the winter months, Gatlinburg transforms into a winter wonderland, attracting skiers and snowboarders to its world-class slopes. Whatever your passion may be, Gatlinburg ensures that outdoor adventure is never far away.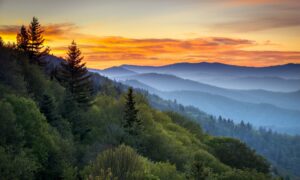 Homes currently for sale in Gatlinburg TN
3. Local Attractions: Endless Entertainment at Your Doorstep
Gatlinburg is not only a nature lover's paradise but also a vibrant hub of entertainment and local attractions. The town is home to an array of family-friendly destinations that offer something for everyone. Experience the thrill of Dollywood, a renowned theme park created by country music legend Dolly Parton, or venture into the depths of the Earth at the mesmerizing Forbidden Caverns. Marvel at the wonders of Ripley's Aquarium of the Smokies or take a leisurely stroll along the bustling streets of downtown Gatlinburg, lined with charming shops, restaurants, and art galleries. With a calendar full of festivals and events throughout the year, there is never a dull moment in Gatlinburg.
4. Finding Your Dream Home: Options to Suit Every Lifestyle
Now that you have fallen in love with Gatlinburg, let's explore the diverse range of homes available in this captivating town. Gatlinburg offers a wide selection of properties that cater to different lifestyles and preferences. Whether you are seeking a cozy cabin nestled in the mountains, a luxurious mountain retreat with panoramic views, or a modern house with state-of-the-art amenities, Gatlinburg has it all. Immerse yourself in the rustic charm of log cabins, complete with crackling fireplaces and spacious decks to enjoy the scenic vistas. Indulge in the comforts of a mountain home, featuring exquisite craftsmanship and upscale finishes. Or opt for a contemporary house designed for modern living, where sleek lines and open floor plans create a harmonious blend of style and functionality. Whatever your vision may be, our experienced agents are here to guide you every step of the way, ensuring that your dream home becomes a reality.
5. Your Trusted Partner in Real Estate
At Clarksville Home Sales, we understand the importance of finding the perfect property that suits your needs and budget. Our team of experienced agents specializes in the Gatlinburg real estate market and possesses an in-depth knowledge of the area. We are committed to providing personalized service and assisting you in making an informed decision. Whether you are searching for a primary residence, a vacation home, or an investment property, we will work tirelessly to find the right match for you. Contact us today to begin your journey towards owning a home in Gatlinburg, TN, and let us help you create lasting memories in this idyllic location.
---
In conclusion, Gatlinburg, TN offers a captivating blend of natural beauty, outdoor adventure, and local attractions that make it a highly desirable location to call home. Whether you seek solace in the tranquility of the mountains or yearn for excitement and entertainment, Gatlinburg caters to all your desires. With a diverse range of homes available, you can find the perfect property that aligns with your lifestyle and preferences. Trust [Your Real Estate Company Name] to be your dedicated partner in this journey, ensuring that your dream of owning a home in Gatlinburg becomes a reality. Contact us today, and let us embark on this exciting adventure together!

 Roane County TN Homes for Sale