Looking for new home construction? Reda Estates Clarksville TN is a gorgeous new subdivision in the Clarksville countryside. When buying a home in Reda Estates, you'll find homes for sale with quality construction, modern features, large yards, and a wonderful lifestyle!
New Estate Homes for sale Reda Estates Clarksville TN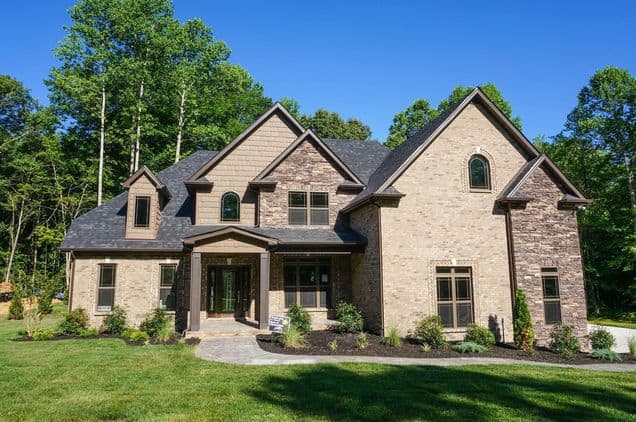 For information about Reda properties for sale or to schedule a private home showing, contact your Clarksville TN real estate expert Ron Dayley today.
New construction, Spec homes, Pre-sales.
Pick your lot, floor plan, appliances, carpet, cabinets, countertop, and flooring…  With a new construction home, you can get your home the way YOU want it.
Reda Estates Subdivision
Large beautiful homes on big lots. Plenty of trees to watch change colors in the fall. Great community to live in and enjoy the seasons. It's nice to see new neighborhoods with mature trees and space between houses.
There are still some great lots to pick from plus you get to choose the flooring, counters, and cabinets if you act early enough. So give us a call and check out some brand-new homes for sale in the Reda Estates subdivision. Rick Reda Home Builders not only builds spec homes, but they will also build you a true custom home or modify one of their existing floorplans to meet your needs in a new home.
Reda Home Builders builds some of the nicest homes in Clarksville and Reda Estates Clarksville TN is a beautiful neighborhood set in the countryside. Do yourself a favor and give Ron Dayley a call and check out these wonderful homes.
More Information about Clarksville Real Estate
Elegant Living in Reda Estates

Reda Estates Clarksville TN

Welcome to Reda Estates, a beautiful subdivision with stunning landscapes and close proximity to the city, Reda Estates offers the perfect blend of rural living and urban convenience.
The subdivision features spacious, single-family homes with beautifully landscaped yards and mature trees. Each home boasts a unique architectural design, ensuring that you'll find a home that truly fits your style. Whether you're looking for a cozy bungalow or a spacious two-story home, you're sure to find the perfect fit at Reda Estates.
Inside, you'll find a variety of high-end finishes and amenities that are sure to impress. From hardwood floors to granite countertops and stainless steel appliances, each home is designed with the modern family in mind. Whether you're cooking a meal for the family or entertaining guests, the kitchens at Reda Estates are designed for convenience and style.
In addition to its prime location, Reda Estates is just a short drive from the best shopping, dining, and entertainment options that Clarksville has to offer. Whether you're in the mood for a night out on the town or a quiet evening at home, you'll find everything you need right here in this vibrant community.
So why wait? Come explore the beauty and convenience of Reda Estates for yourself. We can't wait to welcome you to your new home!
Reda Estates Subdivision offers beautiful Rick Reda homes for sale. For more info on Reda Homes, Clarksville TN give me a call and I will be happy to answer any questions and show you the available homes.