Selling a house due to Divorce
Are you currently experiencing a divorce in Tennessee? Are you considering selling your house in Clarksville due to this situation? Allow me to professionally manage the sale of your property, enabling you to move forward with your life. During this challenging time, it is crucial to have a neutral and experienced professional handling the intricacies of your home sale. Let us facilitate the sale of your home so that both you and your ex-spouse can move forward and embrace the next chapter of your lives. Do not let potential buyers exploit your divorce to negotiate lower prices for your home. It is unnecessary for you to incur financial losses when selling your house as a result of your divorce.
Dividing property during a divorce is a complex process that often involves a Win at All Costs mentality. If you decide to sell your house, it is essential to collaborate with a realtor who comprehends the unique challenges of divorce and is trusted by both parties. Considering the likelihood of strained relationships between the divorcing individuals, it is crucial for both parties to be present at the initial meeting with the realtor or listing appointment. The realtor's role is to represent both parties without favoring one side, ensuring effective communication and addressing the questions and concerns of both individuals. Their objective is to sell your home for the highest possible price within the shortest timeframe.
When selling your home due to divorce, it is common to wonder whether you can keep the house or if selling is the better option. It is advisable to gather relevant information that potential buyers may be interested in and compile it in a clearly labeled notebook placed in a conspicuous area such as the kitchen counter or foyer table. This information includes copies of property tax payments and/or condominium fees for the past year, details of any outstanding loans, lists of personal property staying or leaving with the house, bylaws of relevant homeowners' or condominium associations, descriptions of any unresolved defects, utility bills for the previous year, energy efficiency features, security features, and other appealing aspects of the house. Additionally, it is essential to consult your real estate agent and lawyer for guidance and support throughout the process.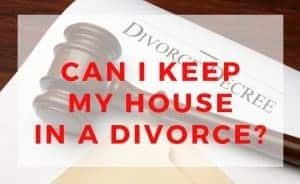 Presenting a united front to potential buyers is crucial to avoid involving them in any conflicts between the divorcing spouses. It is recommended to determine which spouse will handle communication with the realtor and potential buyers and ensure that the designated spouse represents both parties. Keeping the other spouse out of the picture simplifies interactions for real estate agents and buyers. Remember that when selling your home, it is essential to detach yourself emotionally from the property and focus on presenting it as a valuable commodity. Making necessary improvements to enhance the appeal of your house, such as repainting with neutral colors and ensuring all components are in working order, can significantly impact buyers' perceptions.
Setting the right price is paramount when treating your house as a commodity. While you may have an idea of recent sale prices in your neighborhood, relying on informal sources may not provide an accurate estimation. Your real estate agent will conduct a thorough analysis of comparable properties and adjust the recommended listing price accordingly. It is important to emphasize the location of your property as a primary factor influencing its value. However, other elements such as seasonality, local economic conditions, school system quality, the condition of the house, interest rates, and availability of possession can also impact pricing decisions. Pricing your house too high can prolong its time on the market and result in a stale listing, negatively affecting potential offers.
Maintaining a clean and clutter-free home is essential to create a positive impression on buyers. Pay special attention to bathrooms and the kitchen, as these areas often play a significant role in buyers' decisions. Removing excess furniture and personal items, organizing storage spaces, and ensuring all aspects of your home are well-maintained contribute to its overall appeal. Additionally, enhancing curb appeal by addressing minor repairs, maintaining the lawn
Clarksville's Divorce Real Estate Expert