The Reserve at Sango Mills
Homes for Sale in Sango Mills – The Reserve at Sango Mills subdivision in Clarksville, TN is a popular and highly sought-after community that boasts a unique blend of suburban charm and urban convenience. The community is located just minutes from downtown Clarksville and Fort Campbell, making it an ideal choice for military families, professionals, and anyone seeking a convenient location that offers a range of amenities and attractions.
One of the most notable features of the Reserve at Sango Mills is its natural beauty. The community is situated among rolling hills and woods, providing residents with stunning views and plenty of opportunities for outdoor recreation. There are several parks and nature trails in the area, as well as nearby lakes and rivers for fishing, boating, and other water sports.
The homes in the Reserve at Sango Mills are also a major draw for many buyers. There are a variety of floor plans available, ranging from cozy cottages to spacious family homes, and all are designed with modern features and high-quality finishes. Many homes in the community offer open-concept living spaces, gourmet kitchens, and luxurious master suites, making them perfect for entertaining guests or simply relaxing after a long day.
Perhaps one of the most appealing aspects of the Reserve at Sango Mills is its convenient location. The community is just a short drive from downtown Clarksville, which offers a wide range of shopping, dining, and entertainment options. It is also just a few minutes from Fort Campbell, making it an ideal choice for military families who need quick and easy access to the base.
Overall, the Reserve at Sango Mills subdivision is an excellent choice for anyone seeking a beautiful and convenient place to call home in Clarksville, TN. With its natural beauty, stunning homes, and range of community amenities, it is no wonder that this community is such a popular choice for buyers.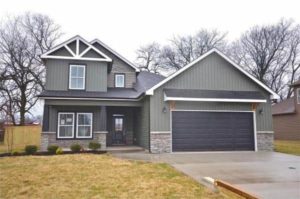 Directions to the subdivision.
From I-24 take Exit 11 and turn onto Sango Rd by McDonald's. Follow the road all the way to Sango Elementary. Go 0.40 miles beyond the school and the subdivision will be on your right.
Reserve at Sango Mills Clarksville TN
Nearby Clarksville subdivisions include Clover Glen, Cedarmont Subdivision Adams TN, Easthaven, Clover Hills, Prestwicke Place, Nicks Ridge, Whitewood Farm, and Willowbrook.
If you like this neighborhood but want to live off Exit 1, check out Autumn Creek.
Clear Springs subdivision homes for sale