Clear Springs Subdivision: A Serene and Welcoming Community in Clarksville, TN
Clear Springs subdivision is a picturesque and inviting neighborhood that offers a peaceful and comfortable living experience. Situated just off Tiny Town Road and close to Fort Campbell, the subdivision provides convenient access to the city's many amenities while offering a serene and welcoming environment to its residents.
A Community That Cares
One of the things that makes the Clear Springs subdivision special is its strong sense of community. Residents here are proud of their neighborhood and work together to ensure that it remains a safe and welcoming place for everyone who lives there. There are plenty of opportunities to get involved in the community, whether it's through volunteering, attending neighborhood events, or simply chatting with your neighbors over a cup of coffee.
Amenities Galore
The subdivision is conveniently located near a wide range of shopping, dining, and entertainment options, making it easy to get everything you need without having to venture too far from home.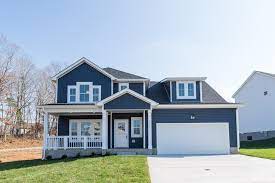 A Wide Range of Homes
Clear Springs subdivision has a wide range of homes to choose from, ensuring that there is something for everyone. Whether you're looking for a cozy starter home or a spacious family home with plenty of room to grow, you'll find it here. The homes in Clear Springs are well-maintained and come in a variety of styles and sizes, making it easy to find a home that fits your unique needs and preferences.
Great Schools
Families with children will appreciate the excellent schools that serve the Clear Springs subdivision. The neighborhood is located in the Clarksville-Montgomery County School System, which is known for its quality education and highly-rated schools. Whether you have young children who are just starting their educational journey or older kids who are getting ready to graduate, you can be confident that they will receive a top-notch education while living in Clear Springs subdivision.
In Conclusion
Clear Springs subdivision is a warm and inviting community that offers a high quality of life for its residents. With a strong sense of community, ample amenities, a wide range of homes to choose from, and excellent schools, it's easy to see why so many people choose to call this neighborhood home. If you're looking for a peaceful and welcoming place to live in Clarksville, TN, then Clear Springs subdivision is definitely worth considering.
Homes Currently Available for Sale in Clear Springs