Buying a New Construction Home in Clarksville, TN
Purchasing a new construction home is an exciting endeavor, filled with possibilities and the opportunity to design your dream living space. If you're considering buying a new construction home in Clarksville, Tennessee, you're in for a treat. Boasting a thriving real estate market and a range of benefits, Clarksville is an ideal location for those seeking a modern, comfortable, and vibrant lifestyle.
One of the key advantages of purchasing a new construction home is the ability to customize the property to suit your specific tastes and needs. Whether it's selecting the floor plan, choosing finishes, or adding personal touches, you have the freedom to create a home that reflects your unique style. Many builders in Clarksville offer a variety of customization options, allowing you to craft a space that truly feels like your own.
In addition to customization, new construction homes often come with the latest energy-efficient features. From high-quality insulation to advanced heating and cooling systems, these homes are designed to maximize energy efficiency, resulting in lower utility bills and a reduced carbon footprint. This not only benefits the environment but also provides long-term savings for homeowners.
New Construction Luxury Homes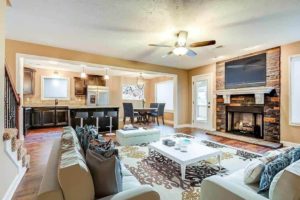 Clarksville's real estate market is experiencing steady growth, making it an excellent investment opportunity. The city's proximity to Fort Campbell, a major military installation, ensures a consistent demand for housing, creating a stable market for both homeowners and investors. With a rising population and a strong local economy, Clarksville offers a promising outlook for property appreciation.
Furthermore, purchasing a new construction home in Clarksville means you'll be able to enjoy modern amenities and community features. Many new developments come with a range of amenities such as parks, walking trails, fitness centers, and community pools. These amenities foster a sense of community and provide ample opportunities for recreation and socializing with neighbors.
Clarksville itself offers a vibrant and diverse community with a rich cultural heritage. From local festivals and events to a thriving arts scene, there is always something happening in this dynamic city. The presence of Austin Peay State University adds an intellectual and cultural element to the community, making it an ideal place to live for families, professionals, and retirees alike.
In conclusion, buying a new construction home in Clarksville, TN offers numerous advantages. The ability to customize your home, enjoy energy-efficient features, and benefit from a strong real estate market make it a wise investment choice. With its thriving community, modern amenities, and rich cultural scene, Clarksville provides an excellent quality of life for residents. So, if you're looking for a place to call home that combines comfort, convenience, and opportunity, look no further than the new construction homes in Clarksville, TN.
Luxury Home Neighborhoods
Hartley Hills

Stones Manor

Danford

Stonehenge

See all the homes Currently Available for Sale in Clarksville. 
Longview Ridge (coming fall 2023)
Executive Homes and Luxury Homes offer comfort and quality.