Multi-Family Investment Homes
Here are all the multi-family homes in Clarksville TN currently for sale. This page will update twice a day so it will stay up to date for you.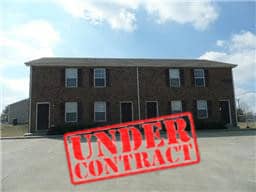 Multi-family Homes for Sale in Clarksville TN
If you're considering investing in multi-family properties, Clarksville, TN is a prime location that offers numerous advantages. With its thriving real estate market and attractive investment opportunities, Clarksville has emerged as a sought-after destination for multi-family property investors. Here are some compelling reasons why Clarksville, TN is a good place to buy multi-family properties.
1. Strong Rental Demand: Clarksville is home to a growing population, including a large number of military personnel from nearby Fort Campbell. This consistent demand for rental properties creates a stable and reliable market for multi-family investments. The city's economic growth and employment opportunities further contribute to the demand for rental housing.
2. Favorable Market Conditions: Clarksville's real estate market has been experiencing steady appreciation, making it an opportune time to invest. The affordable housing prices and the potential for property value appreciation make multi-family properties in Clarksville an attractive investment option.
3. Proximity to Nashville: Clarksville's close proximity to Nashville, the capital of Tennessee, is a significant advantage. The city's strategic location offers investors access to the economic opportunities and cultural attractions of a major metropolitan area while enjoying the lower cost of living and investment opportunities in Clarksville.
4. Supportive Business Environment: Clarksville is known for its business-friendly environment, which is conducive to successful multi-family property investments. The city's commitment to economic growth, infrastructure development, and job creation creates a positive climate for investors.
5. Strong Rental Income Potential: The demand for  MF Homes in Clarksville translates into favorable rental income potential for multi-family property owners. With proper management and tenant screening, investors can achieve attractive cash flow and a solid return on their investment.
6. Property Management Services: Clarksville offers professional property management services, which can ease the burden of managing multi-family properties. These services handle tenant screening, maintenance, rent collection, and other property-related tasks, allowing investors to focus on growing their portfolios and maximizing returns.
7. Community and Amenities: Clarksville boasts a vibrant community with excellent schools, recreational facilities, parks, and entertainment options. These amenities make the city an attractive place to live, attracting tenants and enhancing the appeal of multi-family properties.
Investing in multi-family properties in Clarksville, TN presents an exciting opportunity to capitalize on the city's strong rental demand, favorable market conditions, and promising investment potential. By leveraging the city's growth, investor-friendly environment, and rental income prospects, you can build a successful and profitable multi-family property portfolio in Clarksville.